Invasive Water Plants – February 2019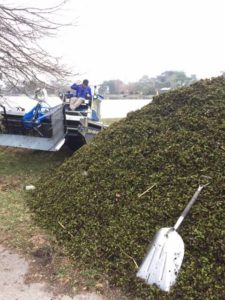 Invasive water plants washed into the bayou when the flood gate was opened in late January. This is not good: they will reduce access to the water for users, degrade the fisheries and habitat, and reduce water quality.
(Un)fun fact: one water hyacinth plant will grow to cover an acre of water in one growing season and salvinia will double in size every 2.5 days.
A number of organizations, businesses and individuals, including Lake Ponchartrain Basin Foundation, Faubourg St. John Neighborhood Association, City Park, Friends of Bayou St. John and Kayak-iti-Yat, recently organized a volunteer manual removal effort. It was a great success, thank you to all the hard workers! Next, Wildlife and Fisheries will come out and spray remaining plants and we will continue to monitor the situation.
FOBSJ put up the funds to hire Innovative Aquatic Solutions to use a special machine for mechanic removal, as you can see in the video at the link above. Any donations made over the next few weeks (using the DONATE button on this page) will go directly towards this project. Please donate if you can!